Champs brûlés, 2019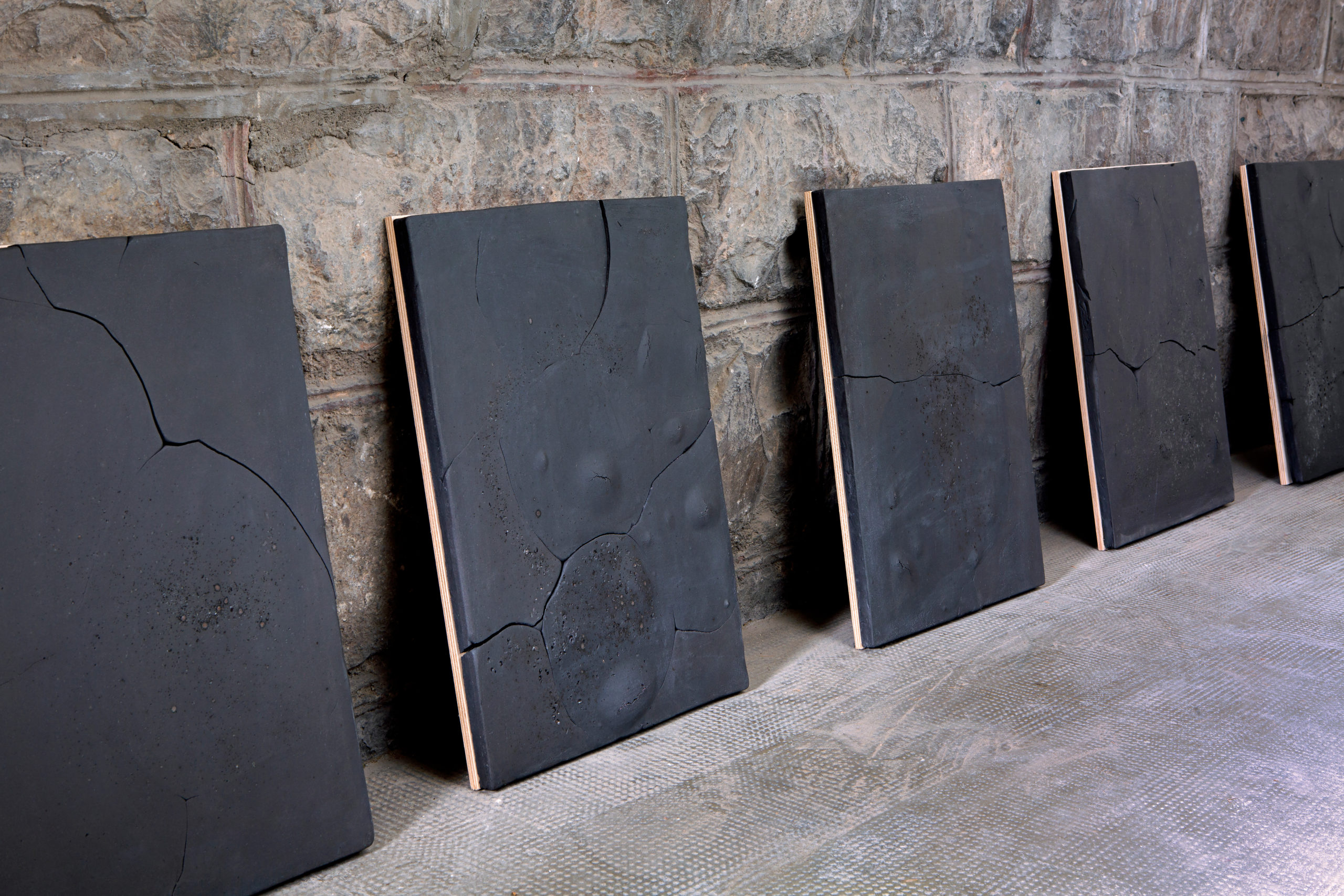 Image  ©Marie-Pierre Cravedi
 Avec Champs brûlés, j'invite fictivement le public à faire quelques pas sur un champ de fleurs brûlées représenté par des plaques de grès sur lesquels il ne reste plus que la trace de graines de fleurs sauvages consumées par le feu. Le minéral s'est imposé. Cette promenade nous rappelle l'appauvrissement de certains sols surexploités. Noir profond, brûlé non par le soleil, mais par l'activité humaine, ou coloré, quel chemin souhaitons-nous emprunter ?
La composition se prolonge avec Ornières, inspirée par les débris de terre laissés par les véhicules agricoles sur la chaussée. C'est comme si j'avais dessiné sur le sol avec des déchets et objets modelés (parties de corps, outils, etc.) en porcelaine. Le regard se perd dans ce désordre soigneusement orchestré. Les mots surgissent : rupture, réorganisation, création, cosmologie, convoquer, ouvrir, imaginer…
---
With Champs brûlés, I fictitiously invite the audience to take a few steps on a field of burnt flowers represented by sandstone slabs on which only the trace of wild flower seeds consumed by fire remains. The mineral has imposed itself. This walk reminds us of some over-exploited and impoverished soils. Deep black, burnt not by the sun but by human activity, or colourful, which path do we wish to take ?
The composition continues with Ornières, inspired by the earth debris left by farm vehicles on the roadway. It is as if I had drawn on the ground with waste and shaped objects (body parts, tools, etc.) in porcelain. The gaze is lost in this carefully orchestrated shambles. Words appear : cleft, reorganization, creation, cosmology, summoning, opening, imagining ?